10 March 2015
In full flight...
I feel a wee bit like a stunned mullet – and just a little tired. Our first week is almost over, and what a week. Sell-out shows, critical acclaim and audiences of all ages loving their arts experiences.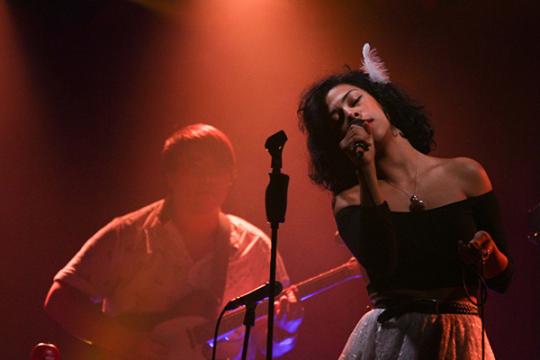 There have been moments of extraordinary beauty, moving imagery, laughter and tears filling our theatres and exhibition spaces - and of course, the Auckland Domain, where tens of thousands were once again amazed by Groupe F. David and I have received so many positive comments about all the work that has been presented so far, from Hīkoi and The Mooncake and the Kūmara to I AM, Limbo, BLAM!, Tafelmusik and Pass the Gat.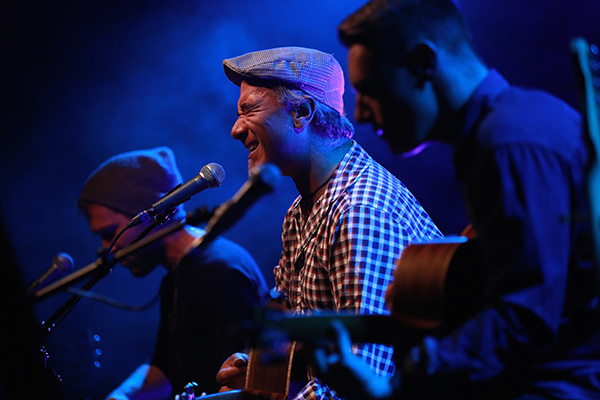 At the heart has been the TimeOut Festival Garden in Aotea Square, sitting smack bang in the middle of many of the Festival venues in the inner city. It has been filled with great sounds, and people of all ages. Some have come to chill out and listen to music, and some have brought their children to draw alongside artists on the Tioka Toi Board, or listen to stories by the South Auckland Poets collective. And others have met their favourite artists. One nine-year-old boy waited outside the stage door to meet his Limbo idols, while a group of 16-year-olds met Phox and were able to have their photo taken with them. They were overheard saying, "wow, this place is so mystical". Well, #Entitiy255 mandela helps with that!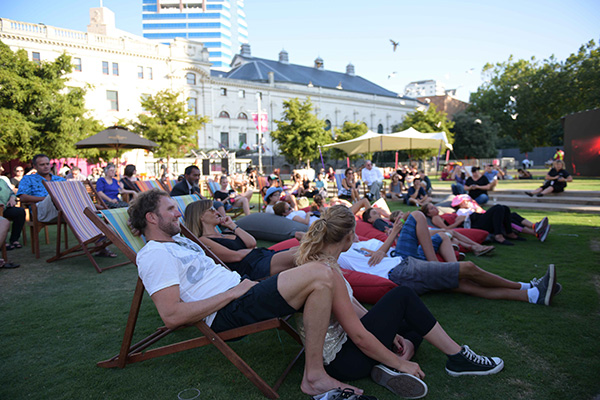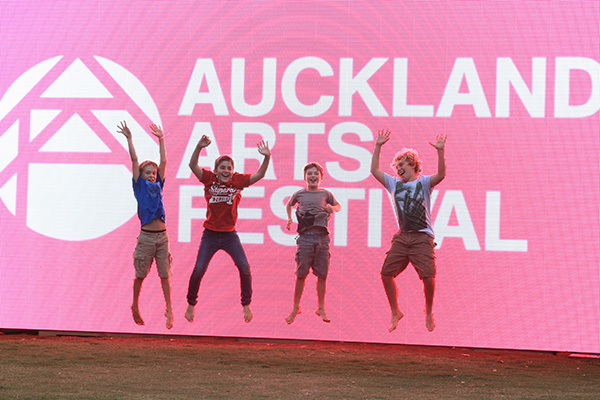 "Happy Birthday Rita" was put up as a mandala for a group of visitors to photograph to send to their mum in Germany on her birthday. And people are meeting people, discussing ideas and art. At 1am last night the composer of Macbeth, Fabrizio Cassol, was sitting talking jazz with Louis Baker and Thomas Oliver (of Pass The Gat). The TimeOut Festival Garden is a great place to meet people, chat and just hang out and have a drink.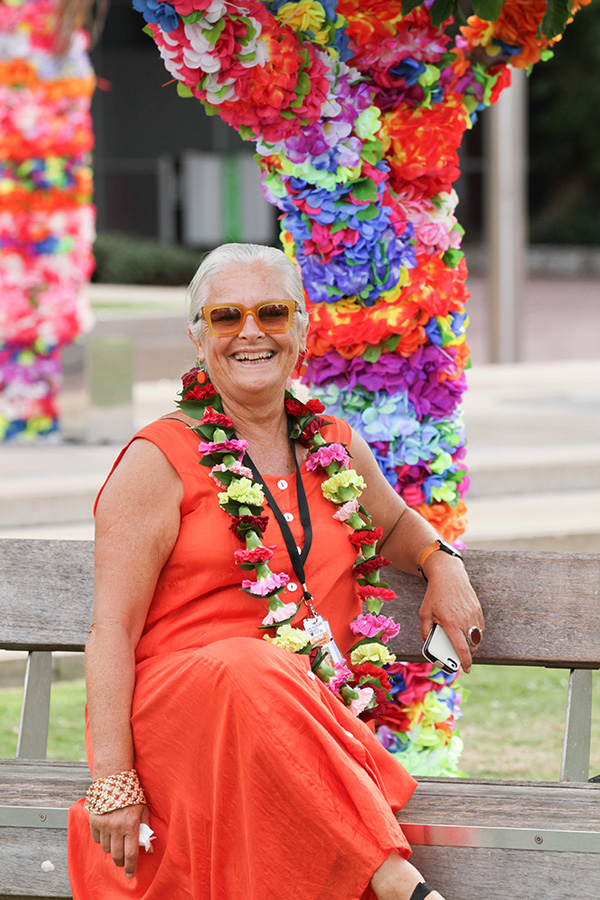 Now we are on to week two, and there are some great shows coming up. My Dad, who is 93, went to Limbo last night on the recommendation of his grandchildren, who said, "Opa, you will love this show!" And he did, as did a colleague's nine-year-old son. So our audiences from nine-to-93 are loving Limbo.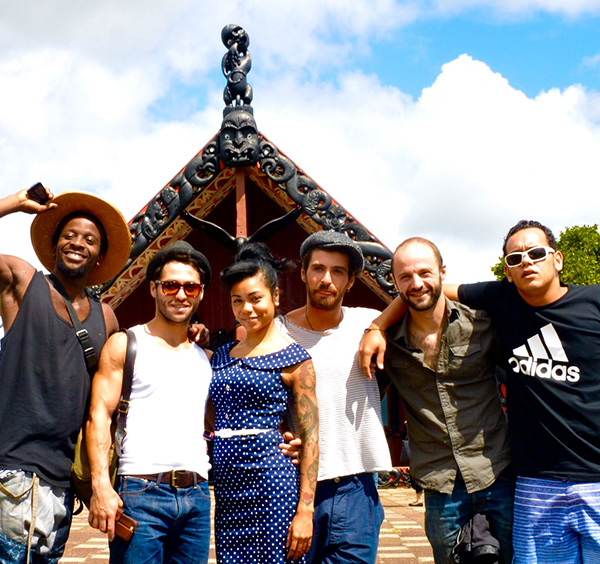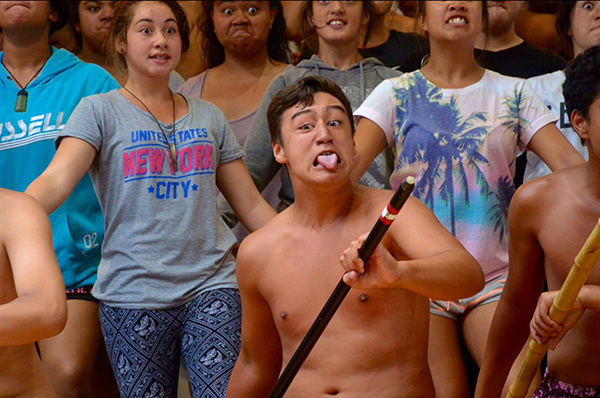 In return, the Limbo artists, along with the Othello folk and the BLAM! blokes were all mesmerised by their welcoming powhiri at Ngati Whatua kei Orakei . After the rangatahi kapahaka group performed at lunch, the artists returned the favour and performed for them. You should have heard the Q Brothers' rhythm and rhyming about the whole occasion. It was magic. Definitely these three shows reach our young people – the teenagers adored the experience.
It's time to get your tickets for some big international shows opening this week. Highly recommended if you like opera, theatre, and visual arts, Macbeth is unique and a knockout in all three arenas. As London's Telegraph said, "There's blazing intensity and savage wit in Bailey's staging, and the singing is quite extraordinary. Owen Metsileng and Otto Maidi radiate strong brooding presences as Macbeth and Banquo, but it's Nobulumko Mngxekeza who is positively knockout as a fearsome, fearless Lady Macbeth.One comes away chilled and thrilled, but also awed by the way in which Shakespeare creatively inspired Verdi, who has in turn inspired Brett Bailey."
Opening this Thursday, Cedar Lake Contemporary Ballet is the hot dance company direct from NYC. They have just been at the Adelaide Festival this past week and as the reviewers said, "…Cedar Lake ... is bold, exceptionally athletic, flexible and entertaining. … Pushing bodies to physical and emotional extremes…"
Two shows not to be missed. I hope to see you all there, and around and about the TimeOut Festival Garden. Don't forget Family Garden Time every Saturday and Sunday morning – free. Bring the kids along!

Photo's: Main image, Phox, Pass The Gat, Festival Garden visitors, kids jumping at the TimeOut Festival Garden screen, Carla (images by Gate Photography), Limbo at Ngati Whatua kei Orakei and children performing the powhiri (images by Lieven Bertels, Director of Sydney Festival)