5 February 2015
A Fine Balance
The rain has come and my garden is drinking at great speed. The courgettes, pumpkins and other vegetables and fruit are growing rapidly, after looking for a while as if they would expire. I am hoping that I will be able to eat lots of them before the Festival starts in four weeks time. Because from that day, I will hardly venture more than a few steps from the centre of the city, unless it is to attend one of our fabulous shows out and about around Auckland.
I am looking forward to the Festival starting. Two years in the making and now it is almost here. Of course there is still a little bit of madness and a lot of hard work to happen before the opening day.
As I am sure you will understand, a Festival is a logistical challenge, and we are masters of logistics. Hundreds of flights have been booked, freight is being shipped from various places around the world, resource consents are in order, ground transport organised, posters, billboards and ads are being churned out, the Festival Garden will start its build soon – and all the festival staff are working very long hours.
And for the first time, at the same time, David and I are already working on the 2016 programme. We are trying to find time every week to write to artists we would like to present in '16, to see if they are available and get terms and conditions so we can create draft budgets. I am finding myself being split down the middle a bit – straddling this festival and the next all at once.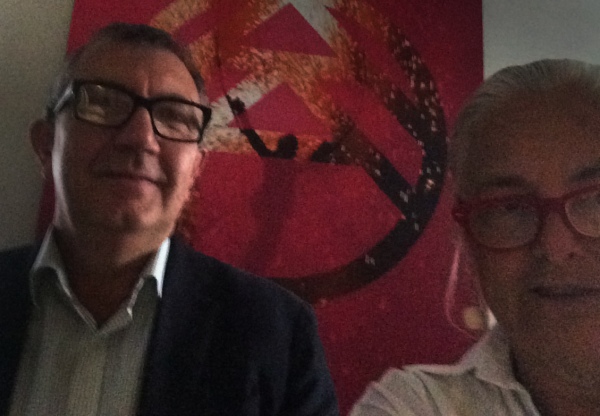 Many of our New Zealand productions have started rehearsing. The Mooncake and the Kūmara started last week, while The Book of Everything and Hīkoi start on Monday. We have announced the final cast members for all these shows – check them out on our website. Some fabulous actors are taking part and the creative teams are top notch.
Real-life couple Kali Kopae and Jamie McCaskill play husband and wife Nellie and Charlie Miller in Nancy Brunning's award-winning play Hīkoi, about a family at a social and cultural crossroad in the 1970s and 80s.
The wonderful Waimihi Hotere plays feisty Wai in The Mooncake and the Kūmara. She is joined by Kip Chapman as Findlayson and hot new talent Yoson An as Yee. A truly diverse cast. And astonishing Australian lighting designer Paul Lim has come over to create his magic for this show.
In our co-production with Silo, The Book of Everything, are two of New Zealand's most revered actors. Rima Te Wiata plays Mrs Van Amersfoort, the mysterious next-door-neighbour who happens to be a witch; and Jennifer Ward-Lealand as the eccentric, bicycle-riding, trouser-wearing Auntie Pie.
Co-produced by the Festival, I AM by Lemi Ponifasio has played to rave reviews around the world, including Edinburgh and Avignon Festivals. Lemi is probably our most famous artist in Europe. I can't go anywhere without colleagues asking me about his work.
And creator of Tai Whetuki, Lisa Reihana, was recently a finalist in the Asia Pacific Breweries Signature Art Prize at the Singapore Art Museum.
The New Zealand works are all going to be something special. Support our artists.
And talking of Visual Arts, the Festival's Visual Arts Guide will be out on the street at the end of next week. It is looking really impressive and there will be lots to immerse yourself in during the days over the whole festival period.
Waitangi weekend will be my last breather before we are really full-on. The 40-hour week has suddenly gone out the window and I know it is only going to get busier. I wish we could store sleep so we didn't get tired. Especially as I get pretty grumpy in the morning if I haven't had enough!
But then the Festival will be here and I will live on adrenalin. I get a real buzz when audiences see the work and all our artists enjoy the response. Also, it is very special to welcome our international artists to NZ – they do love coming to our fabulous city and country. More about them next time.
Carla