2 March 2015
Exclusive Friends Tours: Now Booking!
Not long to go until the first day of the Festival and we couldn't be more excited! We hope you have your Festival tickets. Don't forget to book those fave and brave choices, as well as taking some special young person to an arts experience. There are lots of great shows to choose from.

As benefit of being a Friend of the Festival, you have the opportunity to attend one of the exclusive tours below. Get the inside information on shows, exhibitions and more....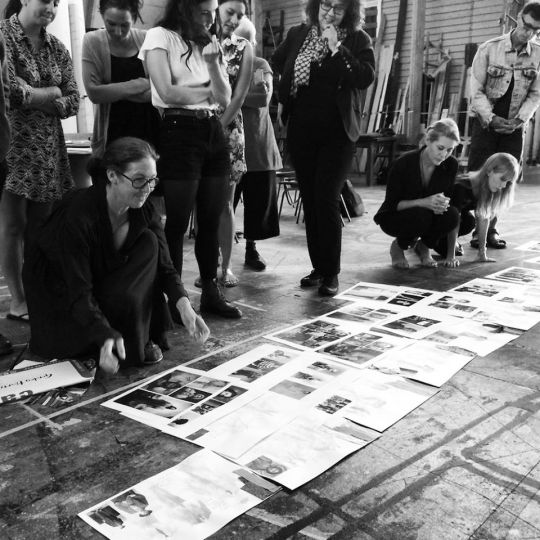 You do have to be a friend to register, and its not too late to join or renew your membership now. For more information, you can visit this page, you can either join via the form or call Ticketmaster directly on and 09 970 9745.
With numbers being limited, its first come first served! We will then send you payment details and reserve your place for you.
---
 Friend Tours During the Festival
Visual Arts with Arianne Craig-Smith, AAF's Programme Manager Visual Arts
Date: 6 March Time: 3pm; approx. 90minutes
Meeting point: Festival Information Booth, TimeOut Festival Garden in Aotea Square
Cost: $25 per person
A guided tour through AAF's visual art works and installations in and around Aotea Square. Expect to receive inside knowledge and background information on the works by Lisa Reihana and Nikki Hastings McFall in both Aotea Square as well as Q Theatre and the exhibition Tūrangawaewae and Invisible Energy at St Paul St Gallery. Stay on in the TimeOut Festival Garden afterwards and enjoy the live music and offerings from the garden bars and cafes.
Behind the Scenes of New Zealand Works
Date: Sat 7 March Time: 4pm
Meeting point: Q Theatre foyer
Cost: $25 per person
Peek behind the scenes of some of the amazing new New Zealand theatre works of the AAF programme. After a tour across the sets of Hīkoi and The Mooncake and the Kūmara, Artistic Director Carla van Zon will chair an illustrious group of creative minds. Meet the writer/director of Hīkoi, Nancy Brunning, the writer of The Mooncake and the Kūmara, Mei-Lin Te Puea Hansen and director Katie Wolfe as well as some of the actors of both plays. Followed by a Q & A session.
A New York Success Story – observe the workings of a world class dance company, Cedar Lake Contemporary Ballet 
Date: Wed 11 March Time: 10am TBC
Meeting point: Wellesley Studios, 113/115 Wellesley Street West
Cost: $25 per person; limit approx. 25 people
This is your chance to get up-close with and observe Cedar Lake Contemporary Ballet in class. Enjoy a guided tour by AAF's Artistic Director Carla van Zon and choreographer and ex-dancer Dolina Wehipeihana, the Festival's Senior Programme Manager. Gain insights into the life of a dancer on tour.
Behind the Scenes of The Kitchen with creator Roysten Abel
Date: Mon 16 March Time: 3pm
Meeting point: SKYCITY Theatre foyer 
Cost: $25 per person; limit approx. 40 people
Get charmed by the director of The Kitchen, Roysten Abel in conversation with AAF's artistic director Carla van Zon and the lead actress of The Kitchen. Enjoy your behind-the-scenes view of the making of this multi-sensory performance and see the extraordinary stage set up close.
Other Friends' Opportunities
Gibbs Farm Sculpture Park
Date: Thu 19 March Time: 10am – 2pm
Meeting point: Entrance, 2421 Kaipara Coast Highway (SH16)
Cost: $30 per person, limit 20 people
Visit the amazing Gibbs Farm sculpture park with artworks from Len Lye to Ralph Hotere. Access to the park is limited in numbers and is only once per month. So here is your opportunity to load up your car with your family and friends and spend some hours amongst some amazing art. Note: this is a self-drive and self-guided activity
Groupe F, Skin of Fire – Friends Area
Date: Sat 7 March Time: gates open 6.45pm
Meeting point: onsite at the Friends area
Cost: no additional cost to the purchased tickets
Join us at the reserved Friends area for Groupe F, Skin of Fire on Saturday at Auckland Domain. Note: please register your interest through the booking email below to enable us to plan for sufficient space.